Groundnut is a major oilseed crop cultivated throughout the India under both rainfed and irrigated conditions. In Erode district more than 20000 ha area is under groundnut cultivation. At the end of the crop season, the groundnut plants are ready for stripping of groundnut pods from the harvested plants. Harvesting of ground is a laborious and time consuming process. The traditional manner of stripping groundnut pods is by removing by fingers or hitting the bunches of nuts with rods. Both the traditional methods cause injuries to the fingers of farm women and damage of nuts which can then be used only for oil expelling purposes. Stripping of groundnut in this manner needs 30 women labour per acre and it is tedious to the farm women.
Mr. Mohanasundaram residing in Nasiyanur village of Erode district is a progressive organic farmer cum innovator recognized by MYRADA KVK. He was encouraged to develop a portable and affordable groundnut pod stripper for small and medium farmers. His effort yielded a fine model of portable pod stripper having stripping and blowing operations done at a time.
The stripper is run with the help of electrical motor of 0.25 HP. The cylindrical type of machine is closed on all the sides with three openings. One for feeding channel, the other one for pod collection point and the remaining one is dust removing or blowing point. It is designed to be operated by two persons simultaneously and it is gender friendly.
Salient features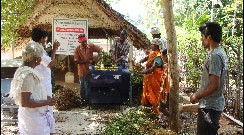 Stripping is done by holding the pod portion of a bunch manually over spiked cylinder. It is suitable for stripping of groundnut pod from the harvested crop. It saves 60 percent labour and pod separation time which ultimately reduces the cost of cultivation. The vines are not fed into the machine, so that the fodder value of the crops can be maintained and used in lean season also.
Though there are several models of groundnut pod stripper available in various research institutes, this particular machine has the advantage of running on 0.25 HP electrical power, stripping and winnowing are done simultaneously and is portable (35 kg).
By using this machine a farmer can harvest an acre area of groundnut in two or three days by engaging family labourers alone. On-farm testing was conducted by MYRADA KVK in order to study the performance and suitability over the existing models. Stripping efficiency of the machine was tested in various farmers' fields and found that 99 percent and the harvested pods are clean and it was noticed that there were no broken pods at the time of stripping. It reduces the labour dependency/engagement of farm labourers upto 60 percent which ultimately reduces the cost of stripping operation by around Rs 2400 -3000 per acre. Winnowing operations can also be done at a time with the support of special attachment attached in this machine called blower. The family members themselves operate this machine and complete the stripping operations in 2 – 3 days. It also reduces the drudgery of the women labourers and it can easily be transported even on a bicycle.
With the support of MYRADA KVK, he demonstrated the performance of the stripper to the Scientists from Zonal Project Directorate, ICAR, Zone VIII, TamilNadu Agricultural University Coimbatore and State Department officials of Erode district. MYRADA KVK identified him as best innovator and he was honoured in Scientific Advisory Committee meeting held at MYRADA KVK during the year 2013.
The cost of this stripper is Rs. 20,000/-. The innovation reduces the cost considerably in post harvest operation in groundnut. He guides other farmers on how to use this machine and its feasibility as part of the training programme conducted by MYRADA KVK in Erode district.